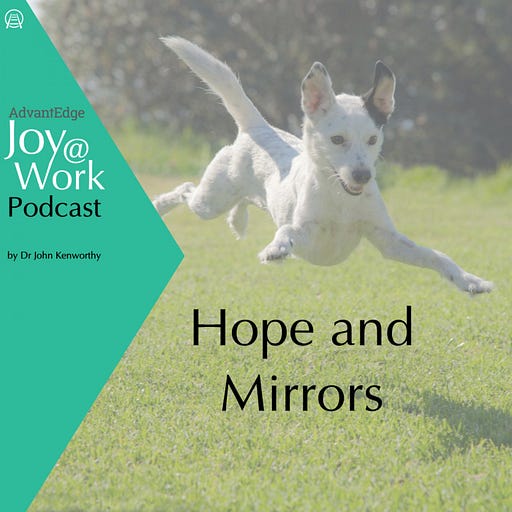 Dec 14, 2021 • 15M
Hope and Mirrors
Helping marketplace leaders #UnStuck their true potential to thrive in life and leadership to build a successful, sustainable business with collaborative, high performance teams and Joy@Work with practical, neuroscience-based AdvantEdge Guides and coaching.
Welcome to the AdvantEdge Joy@Work podcast with me, Dr. John Kenworthy. In this guide to developing your five essential qualities of expert hybrid leadership: we're learning why your attitude to hope and how you communicate it, determines how your days and those for your team will unfold. Welcome to Hope and Mirrors.  
In this episode of the AdvantEdge Joy@Work podcast, we're looking forward to a future in hope and expectation of something new and exciting in the days ahead. And how you can choose to be the leader who inspires hope for yourself, and for others.
Full episode and show transcript here: https://joyatwork.coach/hope-and-mirrors
The choice is yours. I stick to my favorite verse to start every day from Psalm 118, Verse 24, in the New King James Version.  This is the day the Lord has made. We will rejoice and be glad in it.  
All the faces in the world are mirrors. What kind of reflections do you see in the faces of the people you meet? What kind of reflections do you want to see?  
To learn more about AdvantEdge Coaching so that you can have Joy@Work and your team becomes United in Trust and Collaboration. Contact us through the link on the show notes and arrange a complimentary, confidential, no obligation Discovery Session. https://joyatwork.coach/apply