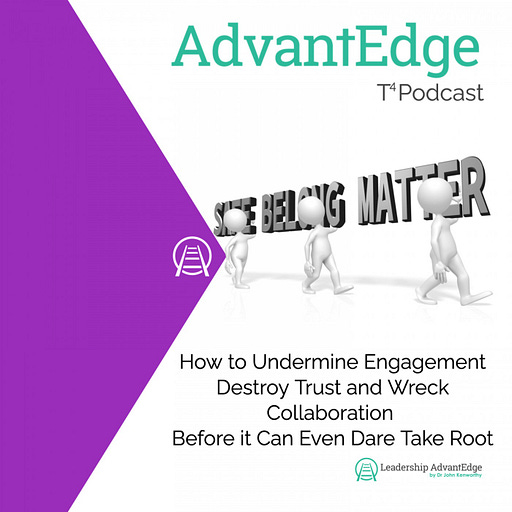 Jun 3, 2021 • 22M
How to Undermine Engagement, Destroy Trust and Wreck Collaboration Before it Can Even Dare Take Root
Hi, I am Dr John Kenworthy, a behavioural neuroscientist and expert Leadership AdvantEdge Coach. And I am thrilled that you've joined me here . My purpose is to Encourage, Develop, Guide and Empower you in the Art and Neuroscience of Expert Leadership so that you build a successful organisation and create a collaborative, high performing team with engaged, joyful employees. We call this: AdvantEdge Joy@Work
Collaboration is when an effective team harnesses the best out of individuals working together and appears to be disarmingly simple:
"to work with another person or group in order to achieve or do something"
But everyone in the team comes with their own personality, their culture and way of doing things and their own competitiveness, their fears, their concerns and their needs. For successful and fruitful collaboration, the leader needs to help the team be actively engaged in what they are doing, and that they trust one another by setting the groundwork to build a solid foundation and then maintaining it rigorously.
Many thousands of leaders have failed to create team unity, trust and engagement through team building courses and enforced jollity of casual Friday or a virtual happy hour. But the buzz from that ropes course wears thin after a few days when your brain recognises that what it wants and needs is still missing.
How do we fix that? Well, before we get to that let's check in on what your brain really wants and needs:
What Your Brain Wants and Needs:
Fortunately, we know that every human being shares a fundamental need for three things in life:
The need to feel safe

The need to belong to a group or tribe, and

The need to believe that they and what they do, matters
Getting a team to be actively engaged, to trust each other and collaborate takes plenty of leadership time and effort - so why would you destroy it before it has a chance?
Purpose
In this guide we'll understand how to build and maintain the critical foundation's of Safety, Belonging and Mattering by Listening Deeply so that the team can trust each other and, with clarity of their own purpose and direction, be actively engaged and collaborate to achieve the desired results.
Process
We'll look Pat Lencioni's famous work on the five dysfunctions of a team and see how further research shows that Safety, Belonging and Mattering are crucial to your brain and thus to your ability to trust and collaborate. We'll then look at how listening deeply is the ONE missing ingredient that all leaders can do and use to help build the foundations and hence, ultimately, get the results they desire.
Payoff
When you start to listen deeply you will begin to dismantle any climate of fear or the lack of safety felt in too many organisations. Team members will learn that they can speak up and help the leader build and maintain the edifying climate to guide themselves and other team members towards effective trust and collaboration.