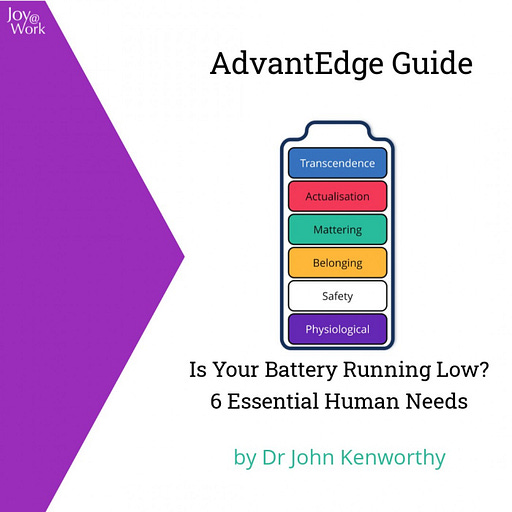 May 24 • 10M
Is Your Battery Running Low?
Hi, I am Dr John Kenworthy, a behavioural neuroscientist and expert Leadership AdvantEdge Coach. And I am thrilled that you've joined me here . My purpose is to Encourage, Develop, Guide and Empower you in the Art and Neuroscience of Expert Leadership so that you build a successful organisation and create a collaborative, high performing team with engaged, joyful employees. We call this: AdvantEdge Joy@Work
Imagine that your needs are like a discharged battery that you are able to charge through your life activities.
When the bottom cell is sufficiently filled, the next cell can be charged. All human beings have 6 essential needs, or power cells.
Though, some people have faulty power packs - with a corrupted sixth cell that has been taken over by a leaky fifth cell. That is, they care less about other people because their self-esteem is so overfilled they hold others in total contempt - because they matter less than me!
Beware overfilling any one cell: Gluttony and Obesity with an overfilled Cell 1, Excessive risk taking for Cell 2.
And many have a leaky battery, where their own needs never get filled.
What does this mean for you as a Leader?
Every leader needs to understand:
1. Your own needs need to be met BEFORE you have enough to give others, and
2. Whilst things may look OK on the surface - people tend to hide their emotional needs fearing that they are the only ones who have them.
By this, you'll be better able to ask the right questions and better positioned to serve others and help them fulfil their real needs.