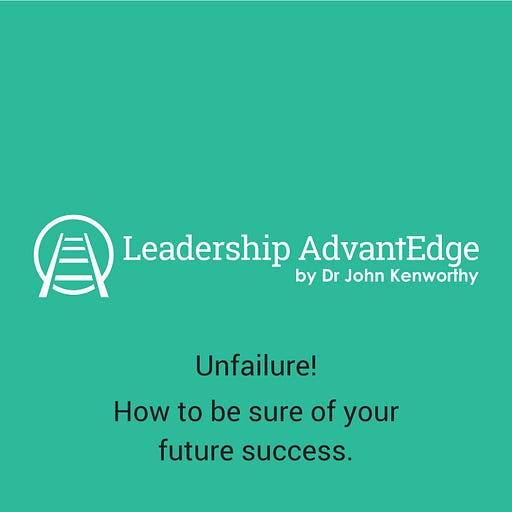 Jan 30, 2016 • 12M
LA 011: Unfailure! How to be sure of your future success.
Hi, I am Dr John Kenworthy, a behavioural neuroscientist and expert Leadership AdvantEdge Coach. And I am thrilled that you've joined me here . My purpose is to Encourage, Develop, Guide and Empower you in the Art and Neuroscience of Expert Leadership so that you build a successful organisation and create a collaborative, high performing team with engaged, joyful employees. We call this: AdvantEdge Joy@Work
We're all aware that there are no shortcuts to success. But, have you noticed that success seems to come more easily to some people and not so easily to you? It's OK, you're not alone. In fact, everyone sees it this way. Even that eejit in your class at school. You know, the one in the big house, with the wealthy parents. They got given a swanky BMW for their 18th birthday. Yes, even they look at others and believe that success came more easily to them. And you know what. They probably even look at you and say how 'lucky' you are to have so easily been successful. "Me?" you say. Yes, you. Because you are successful in so many ways. Perhaps not yet in the specific way you think you would like, but you have a remarkable number of successes under your belt already. And you know how you achieved those successes? You failed. Yeap. You heard me right. You failed. Sometimes, you failed miserably, other times you just failed. But you failed nonetheless. And from that failure, you learned to succeed. This week I'm going to share with you some insights on failure and why it carries such a stigma. Then we'll look at the positive role of failure and lastly, learn how to embrace failure… or something I'm going to call: "Unfailure."