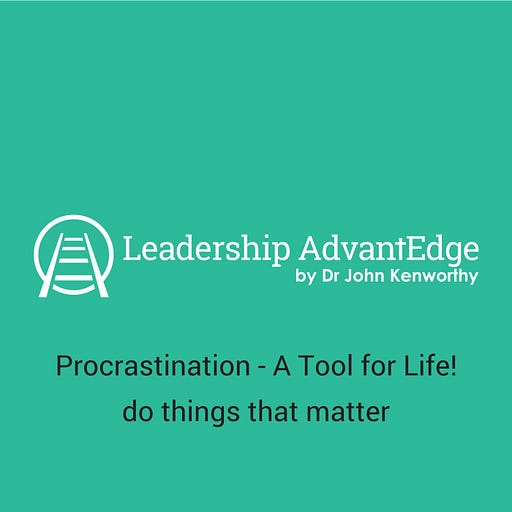 Feb 6, 2016 • 10M
LA 012: Procrastination.:A Tool for Life
Helping marketplace leaders #UnStuck their true potential to thrive in life and leadership to build a successful, sustainable business with collaborative, high performance teams and Joy@Work with practical, neuroscience-based AdvantEdge Guides and coaching.
It seems to me if a tool is so widely used, there must be something to it. As a leadership caddy, procrastination is almost always the first thing my clients want to eliminate from their lives. As you will read, I advise them not to eliminate the very tool that is there to help them navigate the rough spots in life and business.
"If it weren't for the last minute, nothing would get done." Rita Mae Brown
Detour ahead It's time I think to do a little more brain hacking and think of procrastination as a detour in the road. The purpose of a detour is to give us a warning, help us avoid something unnavigable, or dangerous and provides a safer route. Detours usually take a little longer, they circumvent the problem, but in the end we arrive at our destination unscathed. In most cases you will discover that properly employed procrastination, like a detour, will give you an alternate route to the solution of the problem at hand.